Specialty Appliances - High Quality
Great For Apartments, RV's and more!
Portable Dishwasher ----- Washer and Dryer All In One
-------------------------------------
Washer and dryer in one unit!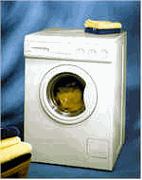 This is the newest technology available for those with a penchant for quality and a dire need for space. The 5EZ2500C9 is a ventless system. How does it dry then, you may ask. Well, this unit has a condensing mechanism for the drying process. Here's the Mechanism.

As with its sibling, how do you know the 5EZ2500C9 is perfect for you? Here's how:

| | |
| --- | --- |
| | You have limited space in your apt, condo, home, etc. |
| | You may or may not have built in washer/dryer connections - i.e. regular hot/cold water & dryer vent |
| | You have enough clothes to do one or two washes a week but not four big ones at the end of the month at your local Laundromat. |
| | All of the above |
Whatever your situation, the convenience of having your own clothes processor is always a good thing. Especially because you save space horizontally (unlike the bulky duo of a separate washer and separate dryer), you save space vertically (unlike the crammed stacked washer/dryer setup). If you have existing machines you are looking to replace, the Equator Clothes Processors are a boon. They go a long way in reducing your electricity bill as well as your water bill. Hey, all of us could use savings and smaller bills, couldn't we?

5EZ2500C9 Clothes Processor Specifications

SPECIFICATIONS



Model:             5EZ2500C9

Color:             White
Dimensions:        33-1/2"H x 23-1/2"W x 18"D
Net Weight:        176 lbs
Load Capacity:     10 lbs
Drum Capacity:     1.9 ft3
Water Factor:      9.4 gal/ft3
Main Motor:        300W/900W
Heating Element:   1300W/650W
Electrical:        115V AC ~60Hz, 12.8 Amp
Spin Speed:        1000/800/500 rpm
Exhaust Vent:      N/A (Ventless)
Drain Hose 
    Diameters:     1" outside / ¾" inside
Drum:              Stainless Steel

Warranty:          One Year Parts & Labor 


Included With The Clothes Processor


| | |
| --- | --- |
| | 2 Water inlet hoses [rubber] (5'6" with 3/4" fitting) |
| | Water outlet hose (4'3" long) |
| | U-Clamp for drain hose |
| | F-Connector to combine hot & cold water inputs |
| | Owner's Manual |
| | Registration Card |
------------------------------------------------------------------------
Counter Top Dishwasher
Mini-Maid 5PLS602S9 Automatic Compact Dishwasher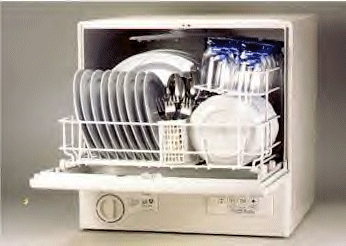 I
The ultimate in portability and wash quality.
It weighs 46 pounds and holds 8 place settings.
It's 2 wash arms and water temperature booster insure super clean dishes!
It's Compact and in a Counter-Top Size.

Ideal for: Apartments, Vintage Homes, Campers/RVs, Condominiums, Seniors,
Singles, Handicapped, and Small Families.

Capacity: Holds up to 8 full place settings.
Model:             5PLS602S9

Power Supply:      120V AC ~60Hz, 10 Amp
Heater:            1200 W
Circulating Pump:  170 W
Discharge Pump:    65 W
Consumption:       0.7 kwh (in heavy wash cycle)
Water Consumption: 4.75 gallons (U.S.) in heavy wash cycle
                   4.00 gallons (Imperial)

Net Weight:        46 lbs
Dimensions:        19-1/2"H x 19-3/4"W x 19-3/4"D
Color:             White
Capacity:          8 full place settings
Warranty:          One Year Parts & Labor